Veolia and its partner Westminster City Council have unveiled a 60 strong fleet of new and upcycled electric vehicles
The vehicles will make street cleansing services in the West End fully electric for the first time, reducing emissions and leading the way towards carbon neutrality
Published
The new electric fleet will be one of the largest operated by a waste and street cleansing contract in any local authority in the UK and a great example of the partnership working towards Imagine 2030; a strategy that aims to build a sustainable future for the city. 
This fully electric fleet will allow an 89% reduction of CO2e emissions compared to a diesel fleet, in line with Westminster City Council's carbon net zero by 2040 plans. It will also help improve air quality and lower noise pollution as electric motors are significantly quieter.
Veolia's energy teams have supported Westminster in installing smart charging infrastructure across Westminster's West End depots, with Farm Street depot in Mayfair being fully electric, to ensure vehicles can be charged to meet the demands of a service that never sleeps.
The full range of vehicles, from e-RCVs to e-trikes and e-sweepers were displayed at Waterloo Place, London which was reimagined as "Electric Place" for the event. Representatives from key stakeholder groups, Councillors and businesses were invited to view the vehicles and even test out the recycling collection e-trikes.

Veolia, the UK's leading environmental solutions provider, operates Westminster City Council's recycling and waste collections as well as their street cleansing operations.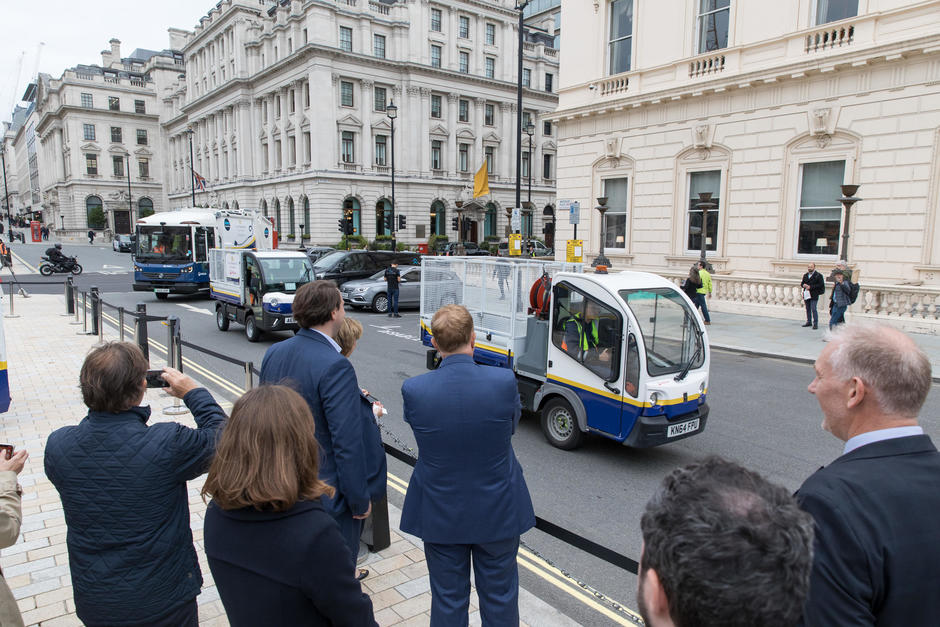 Gavin Graveson, Executive Vice President Veolia UK & Ireland says:
"These electric vehicles demonstrate our commitment to ecological transformation and working with our partner, Westminster City Council to lead the transition away from diesel power. By making this change we're cutting carbon, making the City cleaner and greener, and ensuring the West End is at the forefront of innovation."